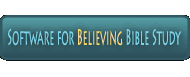 | | | |
| --- | --- | --- |
| Truthbearer | | |
Once saved always saved: Truthbearer
[Quote]
Here are some thought provoking scriptures:
John 8:31
Then said Jesus to those Jews which believed on him, If ye continue in my word, then are ye my disciples indeed;

Pretty straight forward, If you continue you are His disciple, if not you're not.
John 15:9
As the Father hath loved me, so have I loved you: continue ye in my love.

This one is a simple command; should we obey God's commands? Does anyone think that we would still be His children if we didn't?
Acts 14:22
Confirming the souls of the disciples, and exhorting them to continue in the faith, and that we must through much tribulation enter into the kingdom of God.

Do we enter the kingdom of God by saying a simple prayer and asking Jesus into our heart and then living our lives however we want afterwards? How do we enter into His kingdom?

Romans 6:1-2
1What shall we say then? Shall we continue in sin, that grace may abound?
2God forbid. How shall we, that are dead to sin, live any longer therein?

Ok, here God forbids us to continue in sin once we have repented and turned from it.
Romans 11:21-23
For if God spared not the natural branches, take heed lest he also spare not thee.
22Behold therefore the goodness and severity of God: on them which fell, severity; but toward thee, goodness, if thou continue in his goodness: otherwise thou also shalt be cut off.
23 And they also, if they abide not still in unbelief, shall be grafted in: for God is able to graft them in again.

Colossians 1:22-24
In the body of his flesh through death, to present you holy and unblameable and unreproveable in his sight:
23If ye continue in the faith grounded and settled, and be not moved away from the hope of the gospel, which ye have heard, and which was preached to every creature which is under heaven; whereof I Paul am made a minister;
24Who now rejoice in my sufferings for you, and fill up that which is behind of the afflictions of Christ in my flesh for his body's sake, which is the church:
1 Timothy 4:16
Take heed unto thyself, and unto the doctrine; continue in them: for in doing this thou shalt both save thyself, and them that hear thee.
1 John 2:24
Let that therefore abide in you, which ye have heard from the beginning. If that which ye have heard from the beginning shall remain in you, ye also shall continue in the Son, and in the Father.

From the following verse we can see that God has not changed His position on how we are to serve Him and remain with Him. (In case someone thinks it is only commanded in the Old Testament to obey God.) No, Christ didn't come so that we could sin all we want with no repentance and still have that eternal reward; To me it would be like the only thing that changed is that we no longer have to sacrifice animals! What a slap in the face of Jesus and trampling of His precious blood!

Malachi 3:5-7
And I will come near to you to judgment; and I will be a swift witness against the sorcerers, and against the adulterers, and against false swearers, and against those that oppress the hireling in his wages, the widow, and the fatherless, and that turn aside the stranger from his right, and fear not me, saith the LORD of hosts.
For I am the LORD, I change not; therefore ye sons of Jacob are not consumed.
Even from the days of your fathers ye are gone away from mine ordinances, and have not kept them. Return unto me, and I will return unto you, saith the LORD of hosts.

Once saved always saved? Any thoughts?
[Unquote]    
"Think on the above!!"